utrecht city centre directions
predeparture document
Please download this predeparture document and read it carefully. It is meant for Summer School students in general, but a lot of the information is relevant to ISMIR participants as well, in particular concerning travel, student accommodation and things you need to know about the Netherlands in general.
student housing
The predeparture document explains where and what time to collect the key of your room. If it is impossible for you to you arrive in Utrecht before closing time on Saturday 7 or Sunday 8 August, there are three options:
the preferred option: ask another participant to pick up your key (try SoSoMIR for this)
sleep somewhere else the first night
send a mail stating your expected arrival date and time to ismir2010-generalchair [at] ismir [dot] net . We will then try to find someone who can pick up the key for you.
Please note that you will receive bedding, but that you need to bring your own towels!
venue
The main venue is the Conservatoire, Mariaplaats 27, Utrecht. It is only a 5-minute walk from the Central Station. The directions for getting from the Central Station to the Conservatoire (including a map) can be downloaded here. This document furthermore explains how you can get from the Conservatoire to the conference dinner and reception .
getting to the tutorials
The tutorials on 9 August will be held in the Minnaert Building on the Uithof, the University campus east of the city centre. From Utrecht Central Station take bus 11 (bus stop 'Botanische Tuinen' ) or 12 (bus stop Padualaan) (3 strippen). The Minnaert building is the red-brown building to the north. The predeparture document contains more information about public transportation in Utrecht.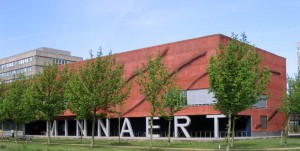 A map of the minnart builing can be found in the programme guide.